We can deliver and collect across Yorkshire and beyond:
Thirsk, Northallerton, Bedale, Ripon, Richmond, Masham, Catterick, Garrison, Boroughbridge, Knaresborough, Shipton, Harrogate, York, Middlesborough, Darlington, Leeds, Wetherby, Leyburn, Scarborough, Hull, Newcastle
Call us today on
07903 973 963
for details in your area!!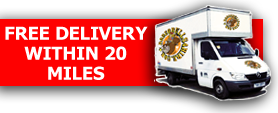 Bucking Bronco Rodeo Bull Hire FAQs
1. How Do I Book my Rodeo Bull?
The preferred method is by telephoning us on 07903 973963, alternatively you can send an email or text message. We also take bookings over Facebook. Why not become our friend and get news , updates and offers straight to your feed. Click here to go to our Facebook page.
2. How Much Notice Do I Need To Give for a Booking?
You can book anytime between 7am - 11pm 7 days a week, however bookings get very busy so please book as early as possible to avoid disappointment. Alternatively you can contact us on the day as we may have availability.
Late night collection and overnight hire is also available
3. How Much Does it Cost?
Please see the individual pages for prices. All items vary in price but are clearly displayed on our website.
Prices stated are within a 20 mile radius of our base (we travel all over the UK) All prices exclude VAT.
4. What Does the Price Include?
All rodeo bull hire booking prices include local delivery, a small charge may need to be charged for out of area deliveries, please see our delivery page for rates or contact us for more information. You will also receive everything needed to inflate the bed, which will be carried out by us at no extra charge. This includes a blower, extension cable, mats, set up, inflation and collection & trained staff at your event.
5. When are your Rodeo Bulls Available?
Our rodeo bulls are available 7 days a week all year round including Bank Holidays.
6. How Long Do I Get the Equipment For?
With our Rodeo Bulls you simply book the length of time that you require them for.
8. Do I Have to Pay a Deposit?
No deposit is required for any of our items (unless you require to) ensuring that we are the most trusted company to supply rodeo equipment hire.
9. How Do I Pay?
Most people choose to pay cash on delivery, PayPal payments and cheque payments need to be received in sufficient time for funds to clear before the event date.
10. What of I Need to Cancel?
You can cancel at any time but please allow at least 3 hours before we are due to arrive (once arrived full payment is required).
11. What of it Rains?
We have a unique rain policy in that if you're brave enough to have it then we're brave enough to deliver it. Who are we to cancel your party?! However it is advised that rodeo bulls are switched off in adverse & wet conditions due to safety reasons as described in our health & safety section.
14. How Much Space is Needed?
See specific product pages for individual space requirements. However, it is advised that a space of 3 feet is left clear surrounding the inflatable bed of the rodeo bull. This is to allow access and room for the blower at the rear. Please make sure all garden items such as garden toys, swings, slides, patio furniture, rubbish etc. are removed from the area where the rodeo bull is to be sited also see Safety Guide for further details.